Plumstead Manor Primary School League
The Plumstead Manor primary league is a competition for local Primary schools to compete across the year in a variety of different sports. The competitions are run by The Plumstead Manor P.E team and some of the schools young leaders.
After the disappointment of losing to Plumcroft by one point in 2013-14, Discovery worked really hard in every competition and this year. All our hard work paid off and we become champions, winning the whole league by 9 points!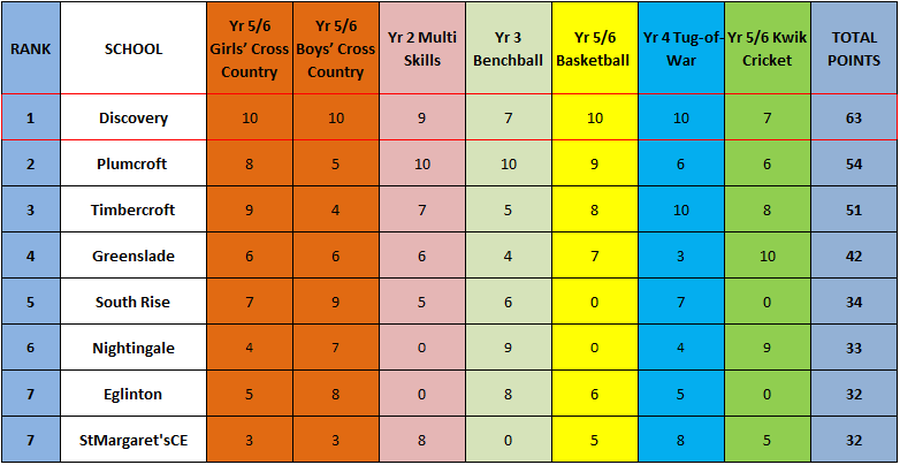 A huge well done to all the children that took part in the league throughout the year. You all represented the school with distinction and showed our schools ethos of Ubuntu. Everyone at Discovery can be incredibly proud of your efforts this year.
Below are each event and the children who took part.

Cross Country Tournament – 20th October 2014
Ben Kouame, Tyreece, Khalid, Ayo, TJ, Timi, Joshua, Kofi, Taliyah, Haliyat, Juanita, Chioma, Joselyn, Angel, Emma and Adeze
Multi Skills – 10th November 2014
Lightning Class – Mirabelle, Abigail, Chinedu and Darius
Storm Class – Jadesola, Lucy, John and Adebowale
Thunder Class – Rukky, Mackenzie, Connie and Isabella
Benchball – 26th January 2015
Eloise, Ericsson, Faeza, Rukky,Aisosa, Gift, Mugtadir, Stefan, Oluwadara and Damilola
Basketball – 3rd March 2015
Roy Wana, Ki Harris, Daniel Doudet, Stephen Benson, Emmanuel Adu, Taliyah Ahearne-Grant, Gift Akor and Esther Joel
Tug of War – 20th April 2015
Kerim, Javan, Taysha, Chinekwu, Montana, Tunmbi, Amara, Ivan, Riley and Jessica
Kwik-Cricket – 30th June 2015
Ansar, Samir, TJ, Tyreece, Rori, Ben, Gift, Joselyn, Ella and Gideon