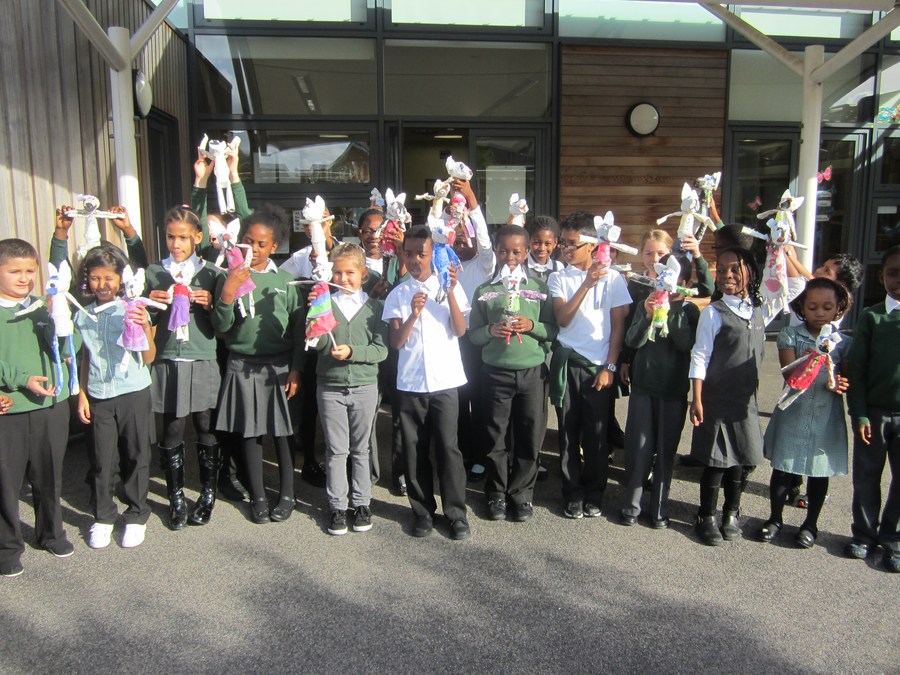 Our Curriculum

Discovery's Cornerstone Curriculum
This year at Discovery Primary School we are excited to introduce our new creative curriculum based around the principles of the Cornerstones Curriculum, a nationally recognised approach for delivering outstanding learning opportunities for children.
The Cornerstones Curriculum is a creative and thematic approach to learning that is mapped to the 2014 Primary National Curriculum allowing for comprehensive coverage of national expectations.
Our new curriculum will be delivered through Imaginative Learning Projects (ILPs), providing a variety of exciting and motivating learning opportunities that make creative links through all facets of the children's learning. Children will progress through four stages of learning in each ILP – Engage, Develop, Innovate and Express
It is our belief that children learn better when they are encouraged to use their imagination and apply their learning through participating in engaging activities in a range of contexts. Our new curriculum will provide learning challenges throughout the academic year that will require the children to solve problems, applying themselves creatively and expressing their knowledge and understanding effectively across all aspects of the curriculum.
To find out more about the four stages that underpin the pedagogy of Cornerstones please click on the link below:
https://cornerstoneseducation.co.uk/why-cornerstones/
Reading and Phonics
At Discovery our children start on their reading journey by being exposed to a range of high quality texts and developing their love of books and literature through a range of exciting lessons. We firmly believe that reading is the key to learning and that all children should be able to enter the magical worlds that books open up to us.
Throughout the school we follow the Letters and Sounds programme for the teaching of phonics. The Letters and Sounds programme is a phonics resource published by the Department for Education and Skills. It aims to build children's speaking and listening skills in their own right as well as to prepare children for learning to read by developing their phonic knowledge and skills. We supplement this scheme through our staff using their Phonics expertise to incorporate multi sensory games into our lessons to make the teaching of Phonics fun, enjoyable and memorable for all children. Each taught Phonics session provides children with opportunities to revisit previous learning, be taught new skills, practise skills and apply what they have learned.
In Reception class children are taught phonics and reading on a daily basis. We use a range of exciting rhymes, songs, practical activities and outdoor learning to embed reading in a range of contexts, demonstrating to children the impact of reading in every aspect of life. When children are confident with some of the Phase 2 phonemes (sounds) and graphemes (letters), then we introduce them to Phonics books that are decodable enabling them to begin to read independently. The main Phonics book scheme we use within school is 'Phonics Bug' books. Children are able to move through the different stages of books as their Phonics knowledge increases enabling them to start to become independent and fluent readers.
In Key Stage 1 children are taught phonics and reading on a daily basis. Children are given a wide range of opportunities to practise their phonics and reading through whole class shared reading, paired reading and guided reading with an adult. There are also regular opportunities for children to read on an individual basis. Children continue to use our decodable Phonics books until they become a confident reader with a strong sight vocabulary. At this stage, they then progress to reading books from the 'Accelerated Reader' programme. This programme grades children's literature meaning most books are 'real' books. Children are encouraged to make choices about the texts that they read, children then read the texts at home and at school. Once a child has read a book they complete an online quiz to assess their understanding of what they have read. This enables children to develop their comprehension skills as well as their decoding skills.
In Key Stage 2 children are also taught English through a novel based curriculum. This enhances a deep love of literature across a range of genres, cultures and styles. Children are encouraged to develop their own love of genres and authors and to review their books objectively.